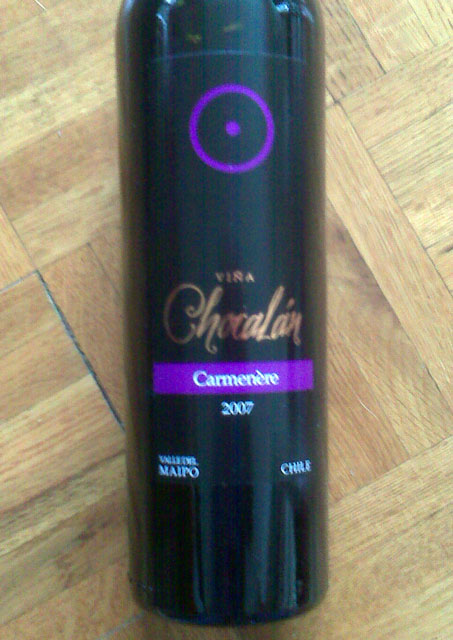 I saw this Chilean Carmenère at my local wine merchant and had to give it a try. I grabbed it and brought it home, looking forward to a big, dark, teeth-staining experience frequently found with Carmenère.
I planned to have it with a big steak dinner over the weekend, and as it is young, and my wine storage area is a tad chilly this time of year, I opened it up to breathe about three and a half hours before dinner. I did take a small sample after opening. I noted the cork was stained dark red, always a good sign. The sample tasted a bit light, but it was also cold, so I hoped it would open up as it sat open for a bit. I went about my usual weekend business around the house; terrorizing neighbors, sharpening axes, you know… routine.
In the course of some activity about an hour and a half before dinner, I noted Mrs. Barbarian with a wine glass. Damn her! She found my bottle. Note to self, HIDE IT next time. Upon quizzing her she admitted to be on her second glass. Sigh. I told her it was for dinner and that I'd like to try save it for then. She said she liked it though.
When dinner arrived I poured myself a glass (and topped up Mrs. Barbarian's) and noted with a cocked eyebrow that it appeared that more than what she claimed to have drank, plus my small taste, was missing. Well, in hindsight I'd have been happy to have her drink it all, as I did not like it much.
The wine in question here is a 2007 Viña Chocalan Carmenère. It LOOKS great. Deep. Dark. But it tastes too light to me. I love big bold wines, and while this one looked the part, it could not deliver the goods. All hat, no cattle. All shout, no battle.
Oh well, at least one of us likes it. Mrs. Barbarian drank the rest of it.