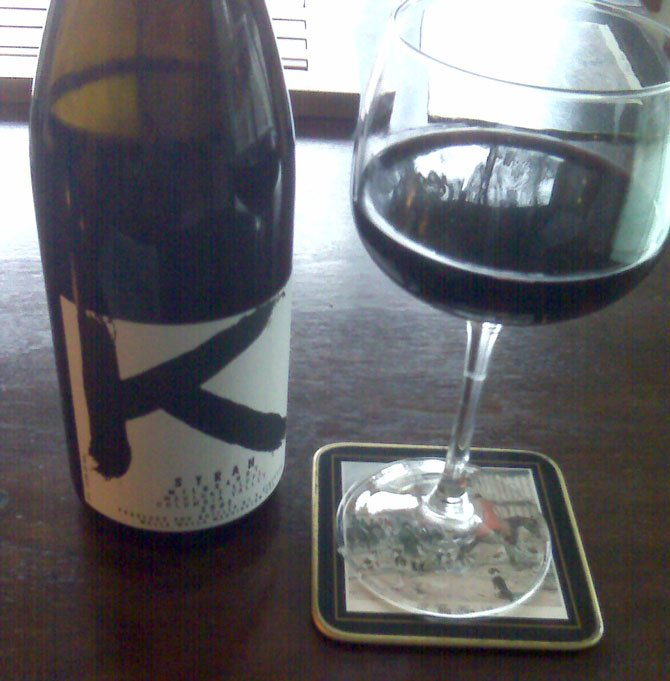 Apologies for the dearth of reviews of late, but I have basically limited my intake to the same Chilean wines I've been reviewing over the past year already. I figured you didn't want to experience deja vu all over again. This has been my contribution to bolster the Chilean economy after the magnitude 8.8 Maule Earthquake in February that so devastated the central region of Chile. Figuring that I could single-handedly contribute to Chile's recovery by drowning myself in Carmenère, and a few select Chilean Cabs, Merlots, and Malbecs, I have made a serious effort over the past few months to assist Chile. I think I've made a dent, so I'm ready to sample some other wines now.
When I met the woman who eventually became Mrs. Barbarian, she was a recent escapee from Alaska. The Last Frontier is an odd place. Filled with big burly men who outnumber both fish and women by a factor of at least ten. As a result of this, the fish are frightened and the women over confident. This might explain a lot. Mrs. Barbarian does like to eat salmon and brought a small one home for dinner tonight. She asked me to make some Aioli, as I am the house Sous Chef when she steps up to make fish. You see, I don't cook fish. Being a barbarian I prefer my fish so fresh that it has yet to see any heat, much less a flame. Sushi and sashimi? Fine with me. But I would never actually cook a fish. I would sooner have my salmon reposed upon a bed of vinegared rice. Mrs. Barbarian gets her face all contorted at the mere mention of sushi, so I have to find my raw seafood outside the confines of our marriage.
I had garlic roasting in the oven, along with some bread, and aioli prepared and chilling in the fridge before she arrived home. Unfortunately I had no wine that really went with salmon, but I did have a treasure resting in my cellar that could at least stand up to the wave of garlic this fillet of salmon would ride onto our table…
K Vintners' 2002 Syrah.
I have a long standing habit of buying pairs of bottles, and if I taste some promise in the first I cellar the second. Saving it for a day at some point in the future when it will come in handy and prove me a savvy swiller of the grape. This bottle was purchased back in 2004 or 2005 and laid down in my "cellar" (I've mentioned before that while sounding snooty, this is merely some unfinished basement at the northern end of our home, but which thankfully stays very cool all year round) after I consumed its twin. The original purchase price was $24.99.
The label identifies our wine thusly:
K Syrah
Milbrandt
Wahluke Slope
Columbia Valley
2002
K Vintners
Walla Walla, Washington
Unlike so many reds that assault you when the bottle is uncorked this Syrah had mellowed. Exchanging structure for force it now displayed a subtle earthy nose much like a French wine. In the glass it remains impenetrably dark, and the bottle itself was stained with the years of close contact with the dark and vital fruit. Surprisingly no sediment appeared in our glasses. Our mouths however were bathed in wonderful, yet subtle fruit flavors. The wine had mellowed considerably over its time in the bottle and had become quite mature and sophisticated. Still energetic enough to withstand the waves of garlic on our plates, but in no way overpowering.
I love salmon, but in a way wish we had some steak to go with this wine. Oh well. Still good as it was.
As a cellar treasure it is unlikely that you can find this wine to buy today, certainly not at the price I paid. However this does serve as a lesson for low-lifes like me – that is that cellar time is good for some wines. Try putting some down and leaving them be for a few years yourself. Even cheap reds like I usually drink can benefit from a few years of rest. It is a low risk proposition, give it a try!