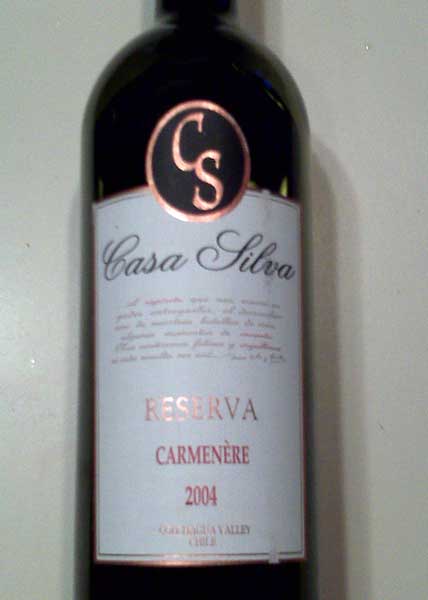 Mrs. Barbarian had a friend over last night, and we drank two and a half bottles of wine. A little of this, a little of that. The last bottle I pulled from my "cellar"… which is really an unfinished room in our basement, but "cellar" sounds better doesn't it? The bottle I picked was this Chilean 2004 Carmenère from Casa Silva. When I opened the bottle and poured a taste I was a tad angry at myself, as it was obvious the wine needed to stay in the cellar a while longer. Very young on the tongue.
We only managed to finish half of it, so I put a stopper in the bottle and finished it with dinner tonight. It is much nicer now. If you were to throw this wine at a real wine snob and hit them in the head they'd probably suffer a concussion. Then when they came to and tasted it I bet they swear it was a French wine from Bordeaux. It has a VERY French style to it, earthy and complex. I like it a lot, but then I really like big earthy reds.
This is not a wine that you would buy and drink, this is a wine to hang onto for a couple of years. Maybe give it as a gift to a wine snob. I can't recall what I paid for this bottle… but I'd guess it was under $20.
Casa Silva 2004 Carmenère, Colchagua Valley, Chile