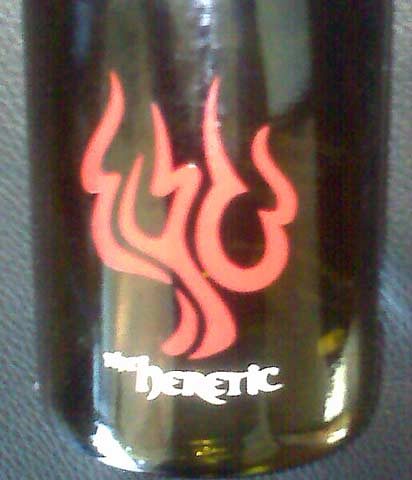 Last month while out on a business trip I attended a dinner with a potential client. We enjoyed a great dinner in a steak house with a great view. Being a classless barbarian I hogged the wine list while everyone else figured out what cut of the flesh of lesser beasts they'd be ordering. I always pick the same thing, so I don't need to look at a menu in a steak place… just give me the wine list. My Petite Sirah radar spotted only one on the whole long list.. it was awash in Cabs, Merlots, and Pinots… but just one of that ballsy, barabaric mis-named varietal, Petite Sirah. I'd never had this one, "The Heretic", but I figured it was a Petite Sirah, wasn't an Oak Grove (bleagh!) and we were about to consume massive quantities of burned steer. How could I go wrong.
The sommelier came by and noted that I was the guy holding the (gigantic) wine list and I asked him to bring my choice. He replied that he hadn't tried this one yet, and was looking forward to opening it. "Coward" I thought. If I had his job I'd be cackling in the cellar amid a pile of Petite Sirah barrels. Leave the Cabs and Pinots to the snobs upstairs, I'll be hoarding the Petite Sirahs down in the cellar.
He brought the bottle about the time our appetizers arrived and poured me a sample.
oh. my. gawd.
Of the Petites I've enjoyed, this one tops them all. Truly awesome. Everyone at the table thought I was a genius.
I have no idea of the vintage to be honest (2005? 2006?). The bottle is heavy and large, almost like a champagne bottle. The label is minimal. I grabbed it and shot two photos with my cell phone on the black leather of the booth… and both of the photos are pretty bad… as you all know I am a LOUSY photographer, sorry. I can make out "Paso Robles" on this shot of the back label.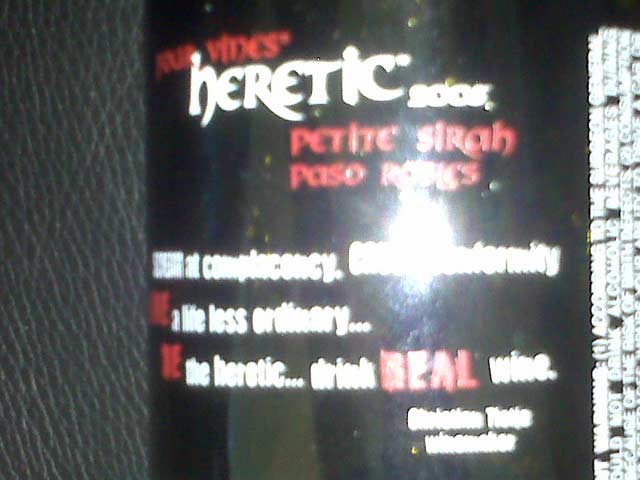 I must head to my wine merchant and grab a few of these bottles for myself.
Four Vines "The Heretic" from Paso Robles.