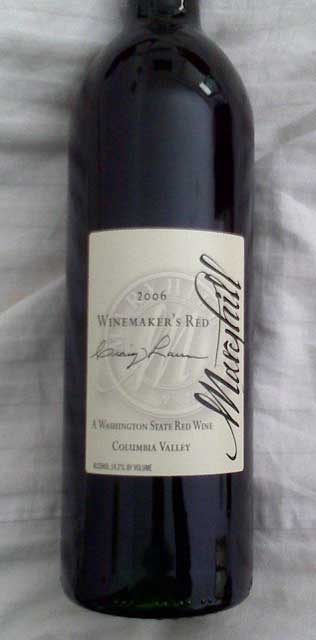 This is one of those "can't miss" buys: Maryhill Winemaker's Red, in this case a 2006. This wine is consistently excellent and reasonably priced, year after year. Mrs. Barbarian was the one that found it for us, having drank it at a social gathering somewhere. We buy a few bottles every year, and usually drink them within a day or two of purchase. In this recent case it was a friend of Mrs. Barbarian who was spending the night at our house as part of a long journey. We happened to fall on a halfway point for her and we offered the guest room. We may be barbaric, but we do take care of our friends on occasion!
The Mrs and her friend were drinking a (truly awful) wine in the kitchen (don't worry, my review is coming soon) when I arrived home from my barbaric daily travails. After I tasted and rejected their choice I opened a bottle of the Maryhill and suddenly the evening got just that much more enjoyable!
I have no idea what varietals they use to make this wine, but they are well chosen and excellent. The price is always in the teens, and the stuff is worth twice the price. Go buy some today.