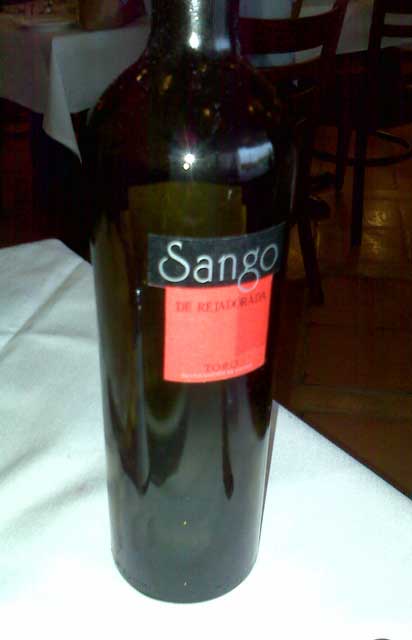 Mrs. Barbarian & I dined at our favorite local restaurant the other day. I always order the same thing there, much to the Mrs' chagrin. The chef magically knows how to make a steak *just* the way I like it, so I never stray. Mrs. Barbarian views her visits to this place as a way of tasting a little of this, and a little of that… tonight's special, or something seasonal… trying a bit of something new.
Me? A caesar salad and a New York strip, medium-rare.
However I never order the same bottle of wine. To me the wine list is the place to try, to sample, to go on a new adventure. The owner is a wine guy and he's always willing to make a suggestion. As we are semi-regulars there he sometimes stops by our table to chat about wines. I didn't see anything on the list that stood out to me, and was just starting to look at his secondary "comings and goings" list where he lists his new arrivals and stuff he's almost out of when he walked up to the table. He looked over my shoulder and pointed out a Spanish Tempranillo that was his last bottle. "Sold!" I said and he brought it out.
The bottle says: Sango 2002 Rejadorada (Tempranillo) Toro denominacion de origen
The stuff inside was fantastic. Truly a pleasure and a fine accompaniment to our meal. The price at the restaurant was in the moderate range, so I imagine it shouldn't be too expensive at a retail outlet. My guess would be in the teens. I've added it to my list for the next trip to the wine merchant. If yours does not carry it, I noted the distributor's URL on the back label:
www.casaventuraimports.com.
Good stuff!