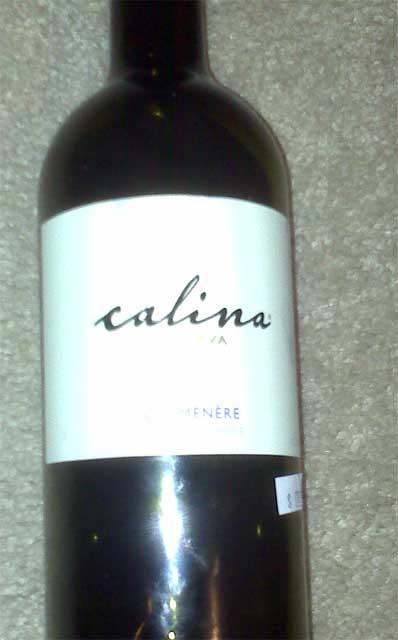 Mrs. Barbarian and I enjoyed this wonderful Calina Reserva 2006 Carmenere with dinner the other night. The Mrs had purchased some pork chops, which I honestly loathe. Don't get me wrong, I'm not a hater of swine flesh… quite the contrary! I love bacon (who doesn't!), pepperoni, ham, etc. I even once ate the entire leg of a pig on a dare in a Munich biergarten with the funniest crowd of Germans (that is not the oxymoron it seems) you'd ever meet. Well, OK, I failed at eating the entire leg, but I gave it a go and both the leg & I called it a draw. But pork chops to me are like faux steak. They look like steak, but taste like… well… leather. I begrudgingly marinated the chops in balsamic vinegar and some herbs, and when it came time to eat them opened up this Chilean Carmenere from Valle del Maule.
It was really quite nice. Not blow your socks off awesome, but genuinely enjoyable. The chops weren't too bad either, but I REALLY enjoyed this wine.
Best of all is the price tag: $6.99!
I love a great wine under ten bucks and this one is worth 3x what they are charging. Chilean wines are going to explode and values like this are the reason why. Great stuff! Go buy a case. I will.