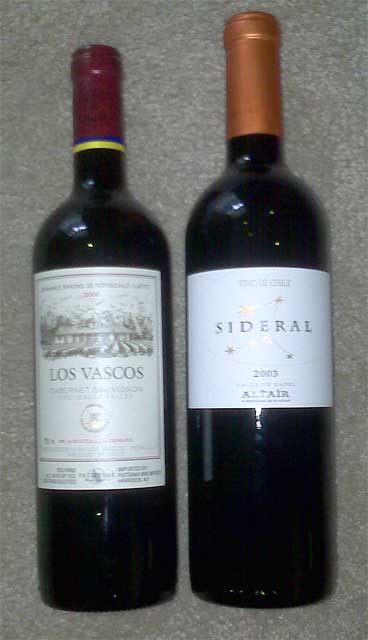 Time to try something different here at The Wine Barbarian: Mortal Combat!
I ventured into The Cellar today to pick a wine for dinner. While that sounds pretentious let me dash your illusions as my "cellar" is just an unfinished room in the Barbarian basement where our house's main electric panel and well equipment resides. It is also underground and at the north side of the house, so it maintains cellar temperature quite well. The workshop fluorescent lights and Costco baker's racks don't quite live up to the terminology though.
I've got a hankerin' for something cheap & red, so I perused my selection of Chilean reds, and could not decide between these two, so I did what any good Barbarian would do, I grabbed them both! I plan on opening them shortly for an initial taste, the serving them with dinner. Afterwards, I'll summarize my thoughts while still in a mildly inebriated state. Before that happens, here are the vital stats on the wines in question:
On the left, coming to the fight with Family history and Provenance in conflict with its low price is Los Vascos Cabernet Sauvignon. Originating in the Colchagua Valley of Chile, it bears the lofty title of Domaines Barons De Rothchild (Lafite), Mis en Bouteille au Domaine. As I picked up a smattering of French during an earlier phase of rapine & pillaging behaviors, I think that means This property is owned by the Rothchild (Lafite) family and this wine is produced and bottled on that estate. The vintage is 2006 and weighs in with a price tag of a mere $9.99.
On the right is the plucky challenger Sideral. It too boasts a French Connection, with some oversight by Château Dassault, Grand Cru Classé of St. Emilion together with Viña San Pedro of Chile. It is a blend of Cabernet Sauvignon (84%), Merlot (10%), and Syrah (6%) from the Rapel Valley. With a vintage of 2003 and a price tag of $23.99 it very well could pummel the opposition! The Vinagoth is always pulling for the underdog, but in this case both dogs seem to be purebred and poodley. Who knows which way it will go!
2:15 PM: Cut the foil and open both. The Los Vascos has an artificial cork, which removes with ease and a satisfying "pop!" The kitchen immediately is filled with an earthy wine aroma. A good start! The Sideral has a natural cork, which initially breaks along the top surface when pierced by the corkscrew. It gives up after a short struggle. Pour both into a glass. The Sideral is deeper in color and tone and is more pleasant on the nose than the Los Vascos, which seems to have weakened a bit in the glass.
2:30 PM: Upon initial tasting these are two very different Cabs. The Sideral is big and bold. The Los Vascos more subtle and smooth. The bottles go into hiding now to prevent Mrs. Barbarian from plundering her way through them before dinner. They need peace while they breathe.
3:30 PM Mrs. Barbarian discovers the half-drunk glasses in the kitchen. My lack of attention to detail is once again my undoing. I tell her to try both. She says "the one on the left is a bit flat, but otherwise they taste the same."
4:30 PM, I'm about to start cooking dinner. Mrs. Barbarian has staretd rooting around the house trying to find open bottles of wine. Finally discovers my hidden cache. Steals some of the Sideral.
5:30 PM Dinner is served. It is a fine meal of chicken breasts, wrapped in a wonderful garlic/egg/herb/flour concoction and baked in a very hot oven. The sides are french fried sweet potatoes and corn on the cob.
Both wines have opened up as far as they'll go. Both have mellowed and the Los Vascos has lost its weakness and is standing up as a moderately good Cabernet should, but the Cab/Merlot/Syrah blend from Sideral is pummeling it senseless. Much stronger nose and wonderful palate feel has the pricier wine winning the shootout in the end.
The Los Vascos is a fantastic buy at under $10 (by a penny) but the more sophisticated blend won out by a small margin. If paying less and getting more is your goal, you cannot go wrong with the Los Vascos. At$9.99, 40% the cost of the Sideral it almost stood up to the $23.99 wine. Some time spent breathing prior to serving really helped it as well.
Trying things head-to-head is often an enjoyable way to try wines. What made things interesting here was the price disparity between the contenders and how it played out in the end. What do you see as most important: Price or value? In this case the difference between the two was not indicated by the price.