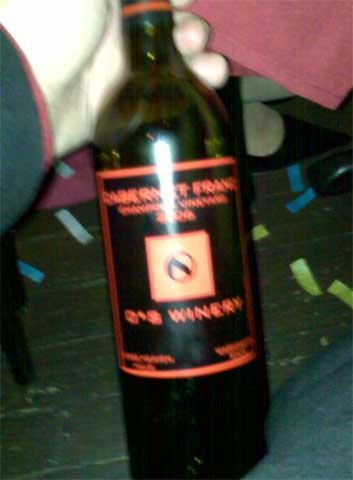 The Vinagoth can't take a photo obviously. Of course if you knew the circumstances leading up to this photo you might be more forgiving. It was at the Office Xmas Party last Friday night. I ended up at a table with the CEO, who said "You're the expert, pick the wine!" That's like handing a chainsaw to a psychopath! How could I resist?
So, perusing the long list I picked a Cab Franc that looked promising… a total wild ass guess to be honest. The Sommelier thought I was some sort of genius, saying something like "That is my favorite!" She brought the first bottle, which she expertly poured for the FIVE of us at that end of the table sharing that bottle. I thought she was a genius for getting the pour exactly right in each glass while and ending up with nothing left and all even. Damn this wine was good. The place where we had our party charged $60 a bottle, and I didn't pay for it… well, I did pay for one bottle later, but it'll be covered on my next expense report! I think between the five of us we polished off five bottles. It WAS a five course meal though.
😉
Everyone at my table thought I was a genius, and everyone loved the wine. So what is it? Have a look at the photo above, can't you read?
It is a O*S Winery 2006 Cabernet Franc. I can't take a photo, but I can make an blur-free HTML link:
I have no idea what it goes for retail, but I may seek it out and buy some. How can you resist? It makes you into a genius!