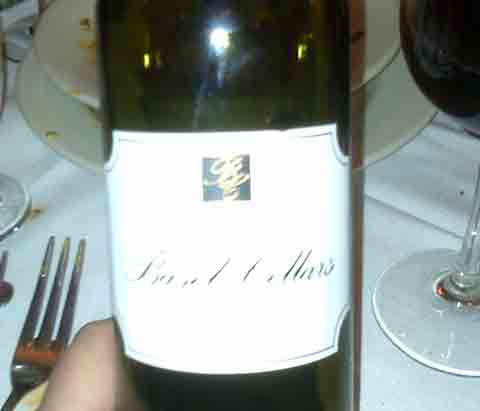 Horrible photograph of a very nice wine.
Sorry for the lack of posts lately… I came down with the flu a while ago and it utterly destroyed my senses of smell and taste for weeks. I've been recovering and along the way I've enjoyed a few good wines. This is a fine example, Basel Cellars 2006 Claret. Mrs. Barbarian, her sister, and I enjoyed this at our local favorite restaurant last weekend. "Claret" is a British term for "Bordeaux blend" and this indeed is a blend of mostly Bordeaux varietals, Merlot, Cabernet Sauvignon, Cabernet Franc, and the a bit of the Rhone thrown in, in the form of Syrah. Basel Cellars is from that wonderful corner of Washington state that the natives call "Walla Walla"… funny name, great wines.
This bottle retails for right around $20 bucks. You really can't go wrong at that price. Excellent value, and good enough to be a bit better than an everyday wine.