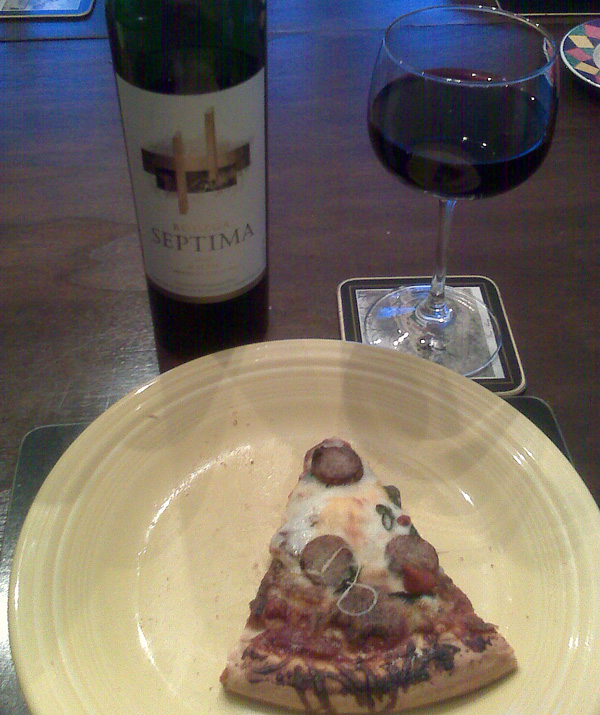 At the moment we have a long-term houseguest, who (irritatingly) is a vegetarian. They are one of Mrs. Barbarian's close relatives, so I have to refrain from my natural instinct, which is to eat them, er… make jokes at their expense. Instead now everything we cook has to have some meatless component. When I cook I really don't cook for Mrs. Barbarian, I cook for me with some extra for her. I make what I want to eat. I like to eat meat.
On a recent evening I arrived home too late from work to really make anything elaborate, so I grabbed one of those 'Boboli' pre-made pizza crusts and made a cheese pizza, and threw slices of a leftover bratwurst, and some green onions on top of "our part" as that was the closest thing I had on hand for pizza-topping made from the flesh of a lesser beast. It actually turned out delicious!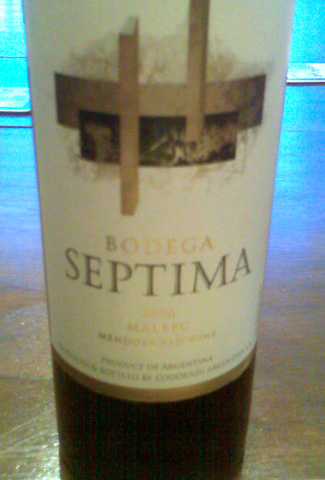 To accompany this fine cuisine I grabbed this bottle of 2006 Bodega Septima Malbec from Mendoza, Argentina. Mrs. Barbarian loved it, as did I. Our houseguest, a teetotaller did not sample the wine (or the bratwurst either… more for me!) The Malbec was wonderfully earthy and full of flavor. Best of all? It was $6.99. Gotta love an El Cheapo red that actually tastes good!
I'll be grabbing a few more bottles of this to add to my Cellar of Cheap Reds being hoarded for the apocalypse.
Maybe I'll lock the vegetarian down there too… stock the larder.