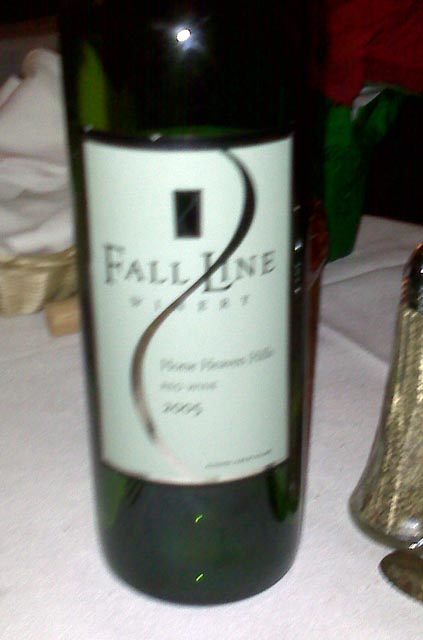 Mrs. Barbarian & I went out for dinner last night. It was Christmas Eve and we'd done nothing to prepare, so when the better half declared "let's go out" I was already dialling our favorite small town bistro for a reservation. Our little foothills burg had been blanketed with an unusual snowfall. Not that we don't get snow, it is just we rarely see more than a dusting. For the past nine days we've been getting dumped upon. Our home is buried under over 3 feet, and down in town things are Alaskan in appearance. Our favorite bistro was indeed open on this semi-holiday, and we secured a table for two.
Upon arrival we found a festive atmosphere and a likeness of the owner/chef, Chef Martin in snow out front: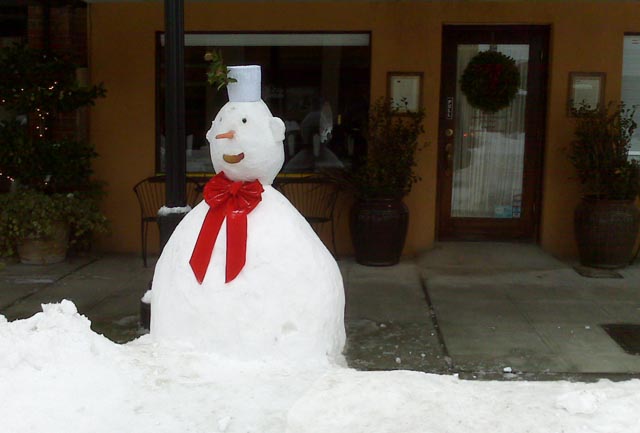 We were seated in a comfy spot at the back, beyond a large party of revelers, but adjacent to the wine racks and small bar. We both ordered one of their "signature martinis"… neither of which are really martinis in the traditional sense. Mrs. Barbarian's was more like a margarita, with a salted rim, and tequila as the main liquor. Mine was called a "Toasted L'Orange" and is a bourbon-based concoction. Both were awesome. Chef Martin had a special for the occasion, a slab of prime rib that looked too good to pass up, so I ordered that along with an onion soup. Mrs. Barbarian ordered a pair of appetizers as her main course, some potato latkes with smoked salmon, and an amazing glazed prawns thing which she prevented me from tasting in a fit of selfishness. Her soup was a squash/curry contrivance that was spec-effing-tacular. Midway through our soups I ordered some wine. Martin's business partner Steve always has a great wine list and introduces me to all sorts of good stuff. Last time we visited we enjoyed a wonderful Cabernet Franc (review coming soon) so I was paying close attention to that varietal. I didn't see anything that caught my eye until I ran down the list of blends and here was something at a reasonable price point that just had a promising ring to it: Fall Line Winery Horse Heaven Hills Red Wine 2005, 39% Merlot, 33% Cabernet Franc, and 28% Cabernet Sauvignon.
It proved a wonderful accompaniment to our meal. Smooth and flavorful. Very drinkable. Very deep and satisfying.
The wine retails for around $30, so it is just a bit outside my usual range but I always throw my cheap side under the bus when I go out to eat. Mind you, it still calls out to me when I order so I never do anything stupid like order anything in triple digits! This wine however hovers in the grey area between "cheap" and expensive" so I'll classify it as both. However I will be pursuing this one on my own and perhaps more of the output from this small winery in Washington state. It appears from their website that they make very limited quantities so if you want to beat me to it I suggest you get off the couch and get moving!