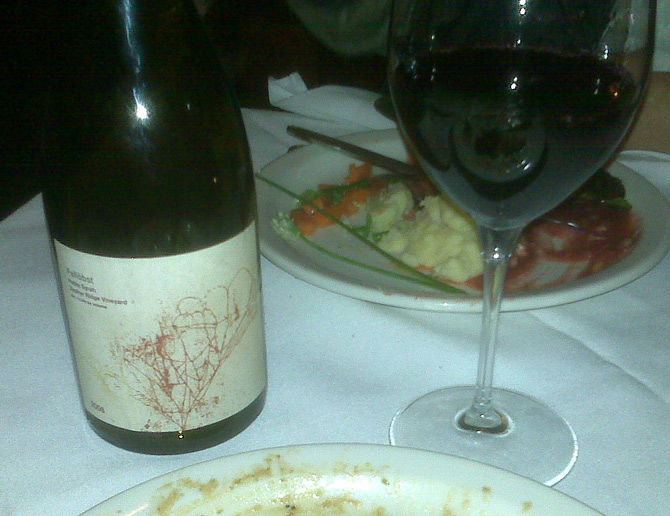 I'll let you in on a not-so-hidden secret: While I like wine quite a bit, I don't know much about wine. When I sit down to share what I thought about any particular wine it is usually a bit after the fact. I snap a photo of the wine, and jot some drunken notes on my not-so-smartphone. I can recall the reactions of those who are with me at the time, and can certainly remember if I liked it or not. But anything more factual is usually conjured from the vast reaches of the Internet via Google. I like to provide links should you, my dear reader, wish to go out and buy some of this stuff yourself. I never read what other reviewers have said about a wine… I honestly do not care. Besides I find all the wine-snob terminology frustrating as hell. I swear, if I ever actually hear somebody say something like "essence of blackberries and tobacco" in my presence I'm likely to bury my forks in their eye sockets (salad fork in the left eye of course!) and drink all their wine myself. I've been known for other barbaric, though not-so-dramatic acts… for instance taking empty wine bottles home from fancy restaurants. I do this as a reminder to myself of how good the wine was, and a way for me to catalog it later for you. Mrs. Barbarian is always shocked and embarrassed by this behavior of mine … though she hasn't yet said "oaky" or "shoe leather" yet while at a fancy bistro with me. She thinks walking away with an empty, and then (shock! horror!) leaving it sitting at my desk for weeks on end is "tacky." Of course my retort to her is "you picked me… what does that say about your judgement?"
Not long ago Mrs. Barbarian & I visited our favorite eatery and as my eye wandered over the wine list it fell upon something I'd never seen before. A Petite Syrah from the Pacific Northwest. I had to try it. The proprietor of this place loves to present hard to find, usually very unusual wines. Sure, he has a big list of safe choices for those lacking in courage, but there are enough whack-jobs like myself among his clientele that oddball wines and offbeat varietals are always available on the periphery of his list. I suspect that in the case of this wine, he only had a handful, if even a case. It was there one week, and gone the next. I'm glad I stumbled into enjoy it while it was available.
Despite the fact that I kept the bottle, this Petite Syrah remains a mystery.
The front label says only:
Fallöbst
Petite Syrah
Zephyr Ridge Vineyard
Alc. 14.2% by volume

2006
The back label continues the enigma:
I'm Just Sayin'
I have eaten
the grapes
that were on
the vine
………………..
and which
you were probably
saving
for harvest
……………….
Forgive me
they were so delicious
so sweet
and so oval

PRODUCED AND BOTTLED BY FALLOBST
MILTON FREEWATER, OREGON
All that Google can tell me is that Fallöbst winery does exist in Milton-Freewater (a town not far from Walla Walla, Washington), has paid taxes, and has distributed this wine to a few places in the Pacific Northwest (how it got here to me is yet another mystery!) Zephyr Ridge Vineyard appears to be in Horse Heaven Hills, which is in Washington state in the Columbia River Valley. Beyond that this wine retains all manner of mystery.
I can not recall what I paid for it, likely around $35, which means if it was on a store shelf it would cost around $15—$19. That my friend would be a bargain because this is a wonderful Petite Syrah. Big, bold, smooth, and able to stain your teeth beyond any hope of a career on television.