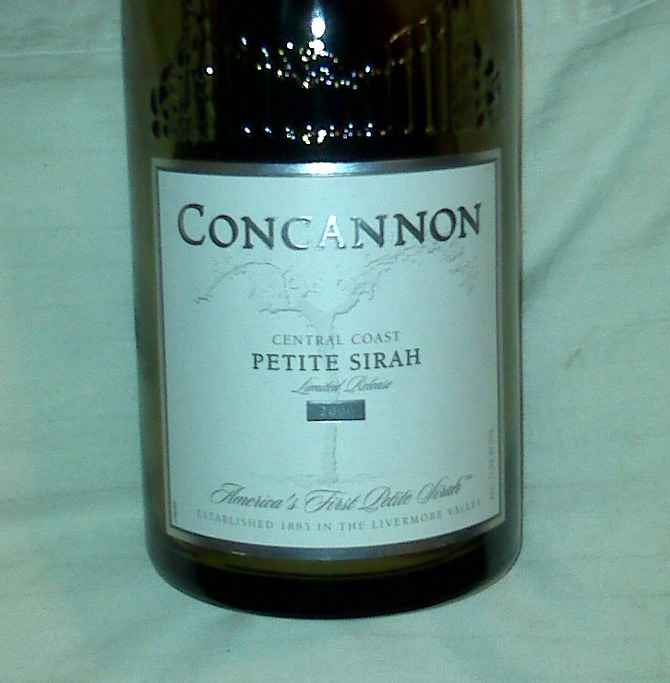 Mrs. Barbarian made a Costco run today, and returned with several industrial-scale boxes filled with foodstuffs. At first I thought she was planning to load a C-130 headed for Haiti, but no… we're supposed to eat it all. Conspicuously absent from the booty was any wine (Costco is where you'll find our every-day wine choice, Cameron Hughes.) Thankfully I had stopped at our local grocer to pick up a prescription at the pharmacy on Friday and as always made a detour through the wine section to grab a few bottles. Dinner tonight was meant to make a dent in this huge food cache and Mrs. Barbarian cooked up some cornbread from a package the size of a pillowcase. Meanwhile I opened a gunny sack of broccoli flowerettes, and some (thankfully in a small package) bratwurst.
Food of this scale requires a big wine. A sledgehammer of a wine. No subtlety required. I reached for the Petite Sirah.
Concannon was the first winery to bottle Durif's grape on its own, and the label proclaims it as "America's First Petite Sirah." It is also a 125 year old family-owned winery. This is a 2006 vintage Central Coast Petite Sirah. The label says "Limited Release", which may be hyperbole if I was able to grab this for $11.25 ($15.99 retail, $12.49 with grocer's loyalty card, $11.25 when combined with a multi-bottle discount!) at my podunk small-town grocery store.
It certainly is quite good though. When I first opened the bottle the nose was a little strange but that vanished quickly. In fact by mid-meal the wine seems to have lost all of it's nose. That is OK though since it tastes wonderful. Big and broad-shouldered like a Petite Sirah should be, and easily able to stand up to the big flavors on the plate. Mrs. Barbarian liked it even more than I did, as I noted that after dinner there was maybe a glass-and-a-half left, and I sat down to write this review. I snapped the photo you see above (note: new cell phone… much better image quality from the camera!), then turned back to my computer to write; when I next turned to grab the bottle to read the label it was empty. I heard her come in and leave the room, but did not turn to look. She obviously slurped up the rest of this nice wine.