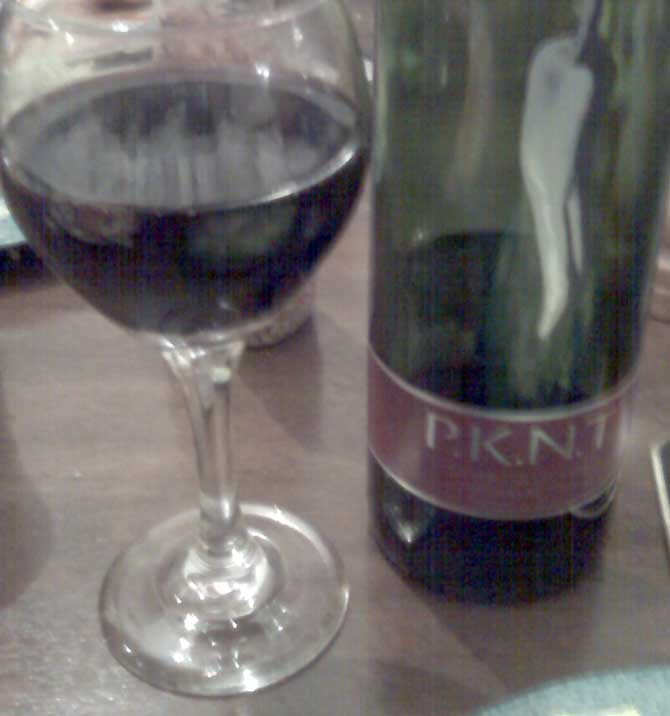 While stalking cheap Chileans at my grocer's wine section recently I noted a new label I'd never seen before. It features a large, long silver chile shape (which sort of looks like the shape of the country of Chile.) I found this odd, as what I know about Chilean cuisine is that they are not fond of spicy foods. In my mind "Chile" and "chile" are never things that get confused, but I imagine most humans haven't put as much thought into it and one chile is just the same as any other.
The other thing I noted about this bottle is that the name of the wine is "P.K.N.T.", but nowhere is this acronym/initials explained.
Of course the most important thing for me, and what drew my eye and eventually hand to grasp the odd bottle was the price tag…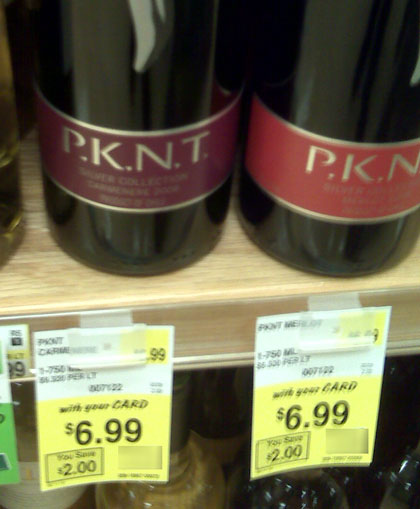 At six ninety-nine how could you go wrong? Viva Chile!
This Carmenère was served up to a houseguest, right after a bottle of the Cono Sur Carmenère I had reviewed earlier. It allowed us to see and taste some differences in this wonderful Chilean (by way of Bordeaux) grape. The PKNT Carmenère was more prototypical in its "carmenère-ness"… that is, it was light-bendingly dark, even at the edges of the glass it showed very little red coloring, looking almost black. It tasted good, though possessed a sort of flavor that seemed more like Merlot than Carmenère to me. Go figure. Maybe this is how Carmenère stayed in hiding for 100+ years, though to be honest this is the first time I've noted a Merlot flavor in a Carmenère.
I liked it as much, if not more than the Cono Sur Carmenère.
P.K.N.T.
Silver collection
Carmenère 2008
Rapel Valley, Chile
www.pknt.com
$6.99—$8.99