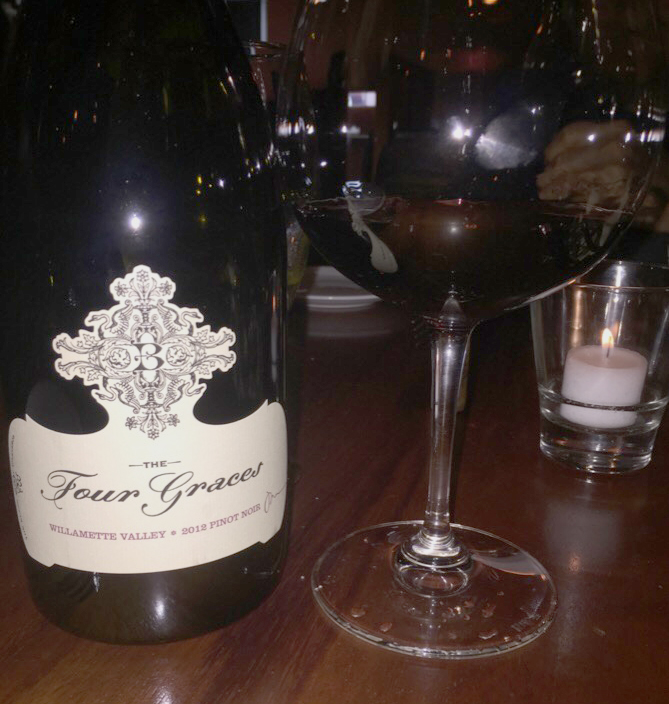 I usually avoid Pinot Noir. Perhaps "avoid" is the wrong word… more like eschew, or maybe just "pick something else for fear of being disappointed." A great Pinot is indeed a wonderful thing, but a mediocre Pinot is far more common and a (pardon the pun) frankly depressing experience. The noble Burgundian is my go-to choice for a blanc-de-noir sparkler, but those are more of a Sunday afternoon on the deck, or celebrate an occasion choice, and nothing like a full red Pinot Noir with all of its complexity and potential for delight, or disappointment. At any point in the price spectrum you can find a "meh" Pinot Noir. Seriously. Just about any other varietal you can peg quality to price pretty closely, but not so Pinot. Not being a gambler, I stick to safer choices when I pick my wines, and indeed, I did not pick this one. However, it was a winner.
Not a "blow your mind" winner, but an excellent solid example of an Oregon Pinot.
Recently some family was here to visit, so we sampled a few of the area's great eateries. One warm summer evening we enjoyed a great meal, seated al fresco. The table had ordered a wide-ranging selection of foods, including Caprese and Caesar salads, escargot, wonderfully crusty French bread with creamy butter, and rack of lamb. One of my guests chose this wine, and it was a perfect accompaniment for everything on the table.
With a huge earthy, woody, nose … it was tempting to stick your honker deep into the glass and just sniff. On the palette it was subtle, with a lot of fruit up front, a strong oak middle, and long, long finish.
It is hard to find a good Pinot. Even harder to find one at a reasonable cost. This one retails for around $32, which is on the low end of what you'll pay for the produce of the Willamette Valley these days. If you see it, buy it.