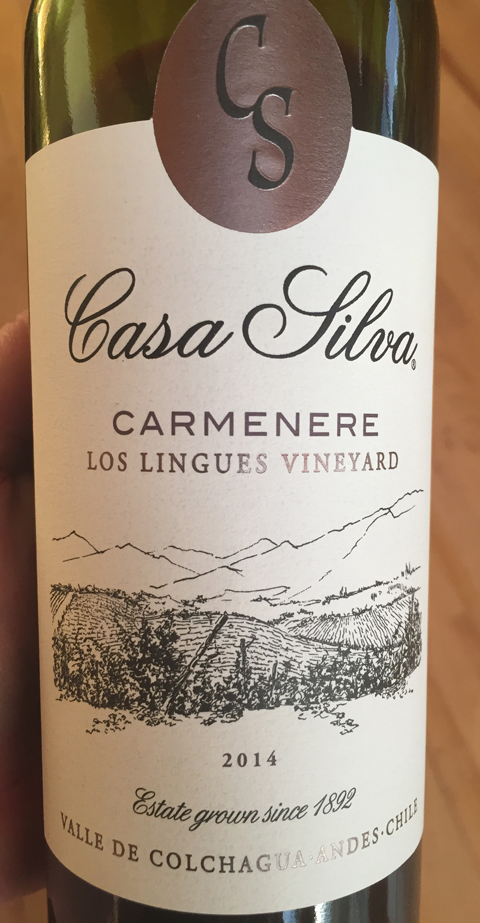 I love Carmenere. It has always been a go-to varietal for me. Consistently yummy. Great food wine. Almost always an exceptional value. For example, this single-vineyard example cost me less that $15. I popped the cork on it as I was rummaging around the kitchen last night making a small dinner for just myself. Warming up some leftover lamb stew, and chopping from veggies for roasting in the oven… I thought, "cooking with wine is better…" so I went to the cellar and grabbed this Carm. I have no recollection of buying it, but thankfully the pricetag remains affixed to the bottle.
A strong aroma of black pepper wafted from the bottle as soon as it was uncorked!
I've had peppery Syrahs before. Plenty of them. I've also enjoyed a peppery Cabernet Franc once or twice. But a Carm? Mild pepper, yes. But never this strong. In the glass it was by far the dominant force on the nose. PEPPER!!!
Likewise on the palette. Quite unique in my experience.
It also had a long, strong, dry finish. Stayed lingering in the mouth long after the liquid was down the gullet.
Dinner slowly warming & roasting, I partook in my favorite evening pastime… the sunset glass:
In the summer and autumn months this is usually done out on the deck, but here in winter and spring it is usually too cold for that sort of thing. I have a nice comfy chair setup inside a west-facing window and just plopped down there and savored this glass.
Well, technically TWO glasses.
Later it paired perfectly with the lamb stew and roast vegetables. By then the peppery notes were fading. By three hours after being uncorked, the pepper was gone, the fruit was up front, and four hours later I couldn't even finish the last of my glass… it had faded that swiftly. Short-lived, but lovely.